Happy Monday everyone!
So I was smart enough to ask 2 of my bloggy bff's for guest posts before I leave but of COURSE I'm not smart enough to schedule them before I leave. So without further ado, while I continue frolicking in Seattle, I give you Rima! She's sharing her adventures in juicing (no, not the guido kind!).
Hey hey hey (Drake-Style)...
What is up, girls (and boys!)... This is Rima from Bolu by Rima!
Since Evani is going up north to Seattle, she asked me if I want to hop on (her blog, not the plane!) and take over for a day. I was like, "oh hellz yea, gurlfriend *snap snap*"... Anyways, since we both "stalk" each other, she knows that I'm in a mode right now. What kind of mode? Juicing mode.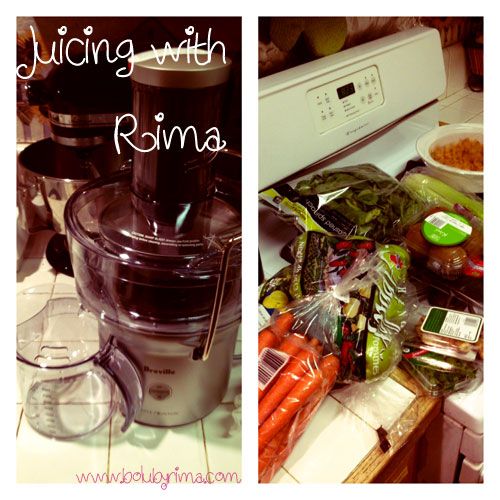 This all started way back when I was in Elementary school, most likely 5th grade, when I started wearing glasses (still proudly do until now). The woman that I call Mother forced fed me with vegetable juices every single day... Until the juicer died. Both Brother & I rejoiced.
Flash forward to present day. One day I realized my complexion on my face was horrid. My skin was so patchy and dry no matter how much moisturizer I put on. I had zits everywhere. My energy was going down the drain.
Then I told Mother, "Fudge this! I'm getting a juicer." I know deep down inside, she was all smiles. Mother knows best. I wanted to do this earlier this year, esp after watching a documentary on Netflix called "Fat, Sick and Nearly Dead."If you got time, go and watch it. It's an eye opener. Anyways, due to my busy schedule at work, my diet is pretty poor. I just eat whatever I can think of the day before or on the day of, and just munch away. My diet consist of carbs carbs carbs, some protein and lots of caffeine. Fruits and Veggies? Bottom of the list. Sad, but true. So I wanted a fast way out. Juicing.
Juicing is where all the water content of the fruit/veg is taken out & collected while the pulp goes to waste. Smoothies are when they blend the whole sha-bang to drink. For now I'm just juicing since I don't have a good blender. There is a whole debate on which one's better, juicing vs smoothie, but I won't get to that. Plus I'm not a good debater anyways.
After browsing around Amazon, I've finally found the juicer that I like, based on ratings. I got the Breville, since it's known to be solid. It's easy to use and easy to clean! And as for recipe books, I browsed around the Kindle store and found Drew Canole's is pretty legit. He has great FRUIT and VEG juice recipes.
Today I'm gonna share you my choices of vegs/fruits that I like to make on a day to day basis.
Warning: Yes, it does look gross at first. Yes, it smells like you're gonna drink grass. Yes, it does taste WEIRD at first. No, you won't die from drinking it. One thing for sure, you'll feel like a million bucks (or maybe it's just me?)... You'll feel great once you start having a glass of juice regularly.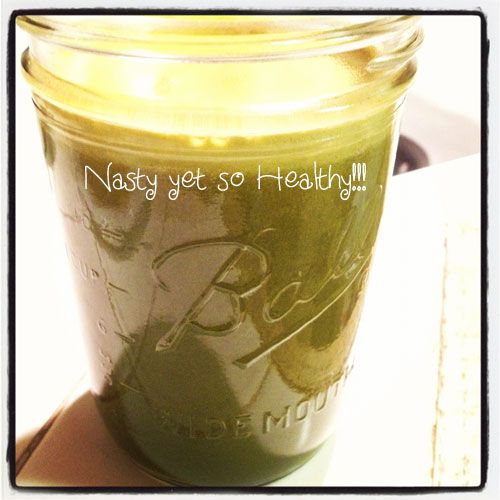 It's HIGHLY recommended to consume Le Juice immediately after making it for you the get the SUPER BENEFITS of the nutrients from the juice. Sometimes I make double amount and pour some in a mason jar, store it in the fridge to be consume the following day. Other than that, just make enough for 1 serving. Most of the recipes I'm sharing today are for 1 serving (which is like 1 medium size Mason Jar)
oh another WARNING: It's preferred to be as ORGANIC as possible. Why? You don't want to juice those chemicals that are on those skins of veggies/fruits. Wash them as clean as possible. If using non-organic, I would peel off the skin.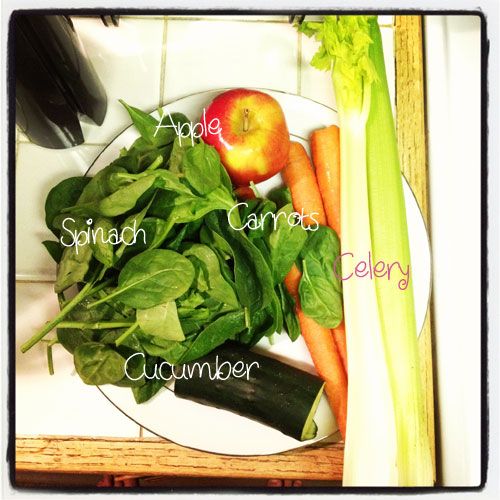 1 Handful of Spinach (I use the washed and ready to use baby spinach. Easy peasy)
1 Medium size Gala Apple (to make it sweet and cover most of the weird taste) -> slice and take out seeds
1/2 of a Large size Cucumber
3 Medium size Carrots
1-2 sticks of Celery (which I hate, dearly)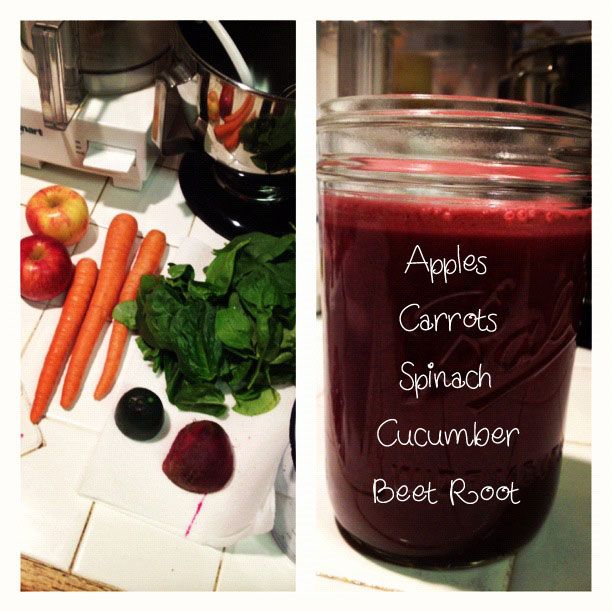 2 Medium Size Gala Apples
3 Medium Size Carrots
1/3 of a Cucumber
1/2 of a Beet Root
2 Handfuls of Spinach
This one turned out sweet because Carrots and Beets are known for being sweet roots.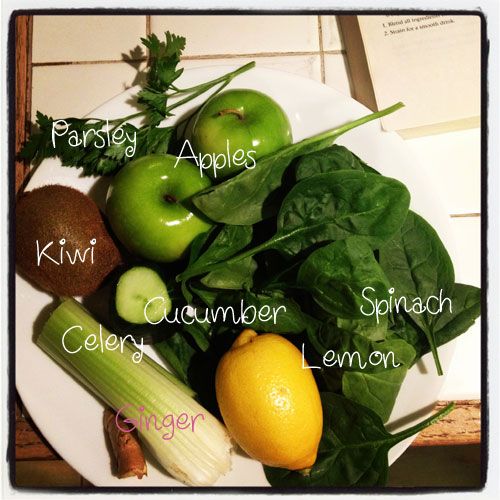 1 Kiwi, skinned. Gross if you didn't. Who wants fuzzy juice? Ew.
1 Celery stick
A small piece of Ginger. When I say small, I mean small. One time I made it too big, damn. That juice burnt my throat going down. It made my belly warm all night. Unless you really like ginger. I don't.
1/3 of a Cucumber
2 Green Apples
1 Lemon, skinned... But you can leave some of the inner skin of the lemon
1 handful of Spinach
This one was pretty refreshing because of the Lemon. Ok and partially because of the ginger (gross).
2 Carrots
1/2 head of Romaine Lettuce (yes, the one for salads)
1 handful of Spinach
1 Gala Apple & 1 Green Apple
2 - 3 rings of Pineapple (I used can for this one)
This one actually turned out yummy... Thanks to the pineapples.
Do you noticed a trend? Spinach, Apples and Carrots? Those are my favorites to juice, I guess because they're easy to find in the market.
Lot of recipes would call for Kale, which is HIGHLY nutritious, but I'm just lazy to find it in the market, hehe. But then again, everybody is different.
Now sometimes you will think, "DANK what should I do with all of these pulps?" There still plenty of nutrients in the pulp and sometimes it does suck to see it go to waste. At one point, I ended up baking it into a bread. It turned out uber yummy and high in fiber. You can even use it as compost for your plants/garden. Someone suggested me maybe a face mask? Hahahaha... that I have yet to try.
Anyways, I hope you find this helpful. I guess this is an easy way to get your Veggies and Fruits down your system.
Btw, my skin does look a lot better. I do feel energize through out the day. Give it a try. I do have my lazy days, I just need to get stricter and just don't give up. Yes, you might not wanna down it in the first time. I had a hard time. I just chugged it down like a pro while pinching my nose... But trust me. If you can down a wheatgrass shot from Jamba Juice, you can down this easily.
moonbeams,
Rima
------------------------------
Isn't Rima the best? Juicing is the perfect segway to the November Let's Get Physical Link up on Wednesday November 7th!  For those of you who haven't linked up before you can read about it here and here but basically it's a link-up to provide support on each other's fitness journeys! I'm hoping to really pump up the volume for November (since it's officially my first Let's Get Physical where I'm a self hosted blog, so maybe there will be a giveaway or two!). So get your confessions, facts and goals ready for Wedneday!
And give it up to Rima one more time *round of applause* and stop by her amazeballs blog. Love you girlfrannnnn!
Related posts: