Happy Tuesday everyone!
So in my 25 by 25 post, I made a promise to myself to toss out pieces in my closet that don't fit anymore. Confession time: I have a closet FULL of clothes that don't fit. I'm not only a clothing hoarder but like most women, I dream of fitting into THAT pair of shorts again so I keep them just in case. But those days are over, I'm taking my closet back!
And if when I lose that weight I dream of losing, then I will spoil myself with a new wardrobe anyways!
So today's Loving Lately is a fall outfit I've been dreaming of. With room in my closet now, maybe I can chase these tan beauties.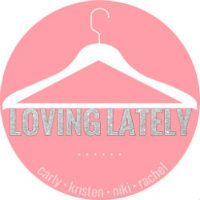 Link Up today!
I'm putting out an SOS to all my curvier ladies: HELP! I'm always on the hunt for boots for ladies with large(r) calves. Especially looking for comfy boots that fit over skinny jeans or leggings. 🙂
I love how tan makes a comeback every fall. And I'm loving so many fall trends like the dolman sleeve and metallic nails too.
What trends are you loving lately?